Tuesday, August 2, 2016
U.S. Attorneys » Central District of California » News
Central District of California
FOR IMMEDIATE RELEASE
O.C. Man Previously Accused in Investment Schemes Charged in New Indictment that Adds Allegations of $3.2 Million Green Energy Scam
SANTA ANA, California – A federal grand jury has returned a superseding indictment that now accuses a Laguna Beach man of defrauding victims out of more than $3 million in an investment fraud scam related to green energy.
Peter Heinrich Conrad Reinert, 61, was arrested in April 2015 after a grand jury charged him in two investment fraud schemes that allegedly caused $3.6 million in losses. Since that time, federal authorities have continued to investigate Reinert for additional crimes.
According to the 35-count superseding indictment filed yesterday in United States District Court, in addition to the two scams outlined in the 2015 indictment, Reinert ran a third scheme out of the Irvine-based Income from Waste Corporation (IFW). Reinert told victims that IFW was developing a technology to convert used tires into oil. As part of the scheme, to gain legitimacy with victims, Reinert falsely claimed to be a United States Secret Service agent and a veteran.
Between January 2014 and his arrest on April 14, 2015, Reinert used IFW to fraudulently obtain $3.2 million dollars from victims from across the country, including a family of farmers in Missouri. Instead of spending the money to develop the purported green energy technology, Reinert used the money to pay for personal expenses and luxury automobiles, sales commissions and purchases at Apple's iTunes store, as well as sending money to an account in Poland.
In addition to the IFW scam, the superseding indictment alleges that Reinert fraudulently obtained and used a United States passport in the name "Peter Michael Berger" after falsely claiming he was born in Maine. During the investigation, authorities learned that Reinert actually was born in Germany.
Finally, the superseding grand jury adds charges alleging that Reinert failed to file a corporate tax return for 2010 for another company he controlled, Green Energy Enterprises, Inc.
"This defendant is charged with operating a series of fraudulent companies, falsely claiming that the companies were good investments," said United States Attorney Eileen M. Decker. "Worse still, Mr. Reinert's schemes preyed upon his victims' desire to contribute to the public good, either by improving the environment or increasing the security of identification documents. This defendant's fraudulent activity was widespread and harmed victims across the United States."
Reinert has been in custody without bond since he was arrested on the original 14-count indictment, which alleges he fraudulently raised money for two other companies that were purportedly developing technology to increase gas mileage and prevent the counterfeiting of government-issued identity documents. The original charges were included as part of the superseding indictment.
"These latest allegations against Mr. Reinert suggest he is a serial con artist who continues to cheat investors into funding his schemes and his lifestyle," said Deirdre Fike, the Assistant Director in Charge of the FBI's Field Office. "Investors can verify federal and military employment and, in many cases, the legitimacy of an investment, by doing research before handing over their savings."
The superseding indictment, which alleges that victims cumulatively suffered losses of approximately $6.8 million, charges Reinert with 19 counts of wire fraud, 13 counts of mail fraud, two counts of passport fraud, and one misdemeanor tax count.
Reinert is expected to be arraigned on the superseding indictment in United States District Court in Santa Ana on August 8. United States District Judge Josephine L. Staton previously ordered Reinert to stand trial on September 20.
An indictment contains allegations that a defendant has committed a crime. Every defendant is presumed to be innocent until and unless proven guilty in court.
The fraud charges for the investment scams each carry a statutory maximum penalty of 20 years in federal prison. The passport fraud charges each carry a statutory maximum penalty of 10 years. The charge of failure to file a tax return carries a statutory maximum penalty of one year.
The investigation into Reinert was conducted by the Federal Bureau of Investigation and IRS Criminal Investigation.
The case is being prosecuted by Assistant United States Attorney Vibhav Mittal of the Santa Ana Branch Office.
Posted by

CAMACOL
at 5:43 AM
No comments:

Monday, August 1, 2016
Climate change is weaponizing the atmosphere.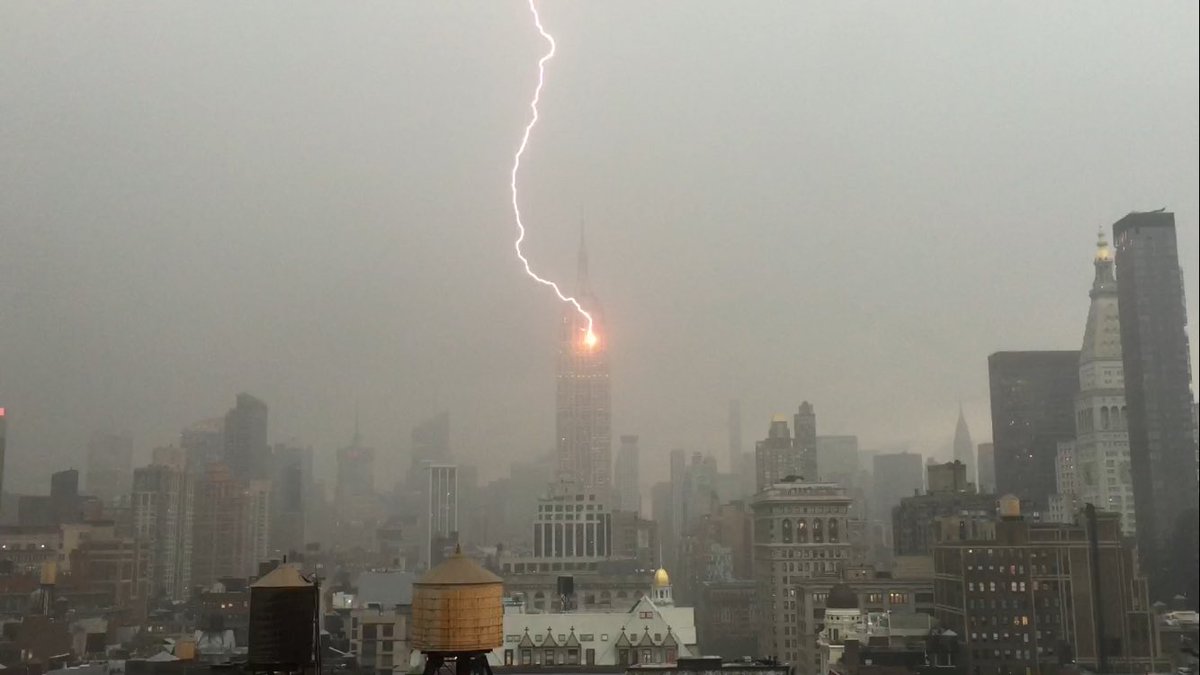 Evidence shows that the sky is coming down on our heads—the watery part of it, anyway, in larger and larger cascades. It's largely our own fault.
The past two months have seen some doozies just in the U.S. The Empire State Building was struck by lightning twice on Monday during a storm that brought an inch of rain down in what felt like a single sheet.
Last month, at least 23 people died in West Virginia flooding. At its peak on June 23, more than 8 inches to 10 inches fell within half a day—a once-every-1,000 years rain storm. Maelstroms in May and early June dropped five times as much rain as normal near Houston, seriously challenging the definition of normal. More than a dozen people died. It was the city's fifth major flood in just over a year. (Rainfall is trending higher nationally, though paving over much of Texas probably doesn't help.)
The most dramatic recent image came from Bruce Haffner, a Phoenix TV helicopter pilot, who snapped what looks very much like a 20-megaton warhead going off. This is informally known as a "rain bomb":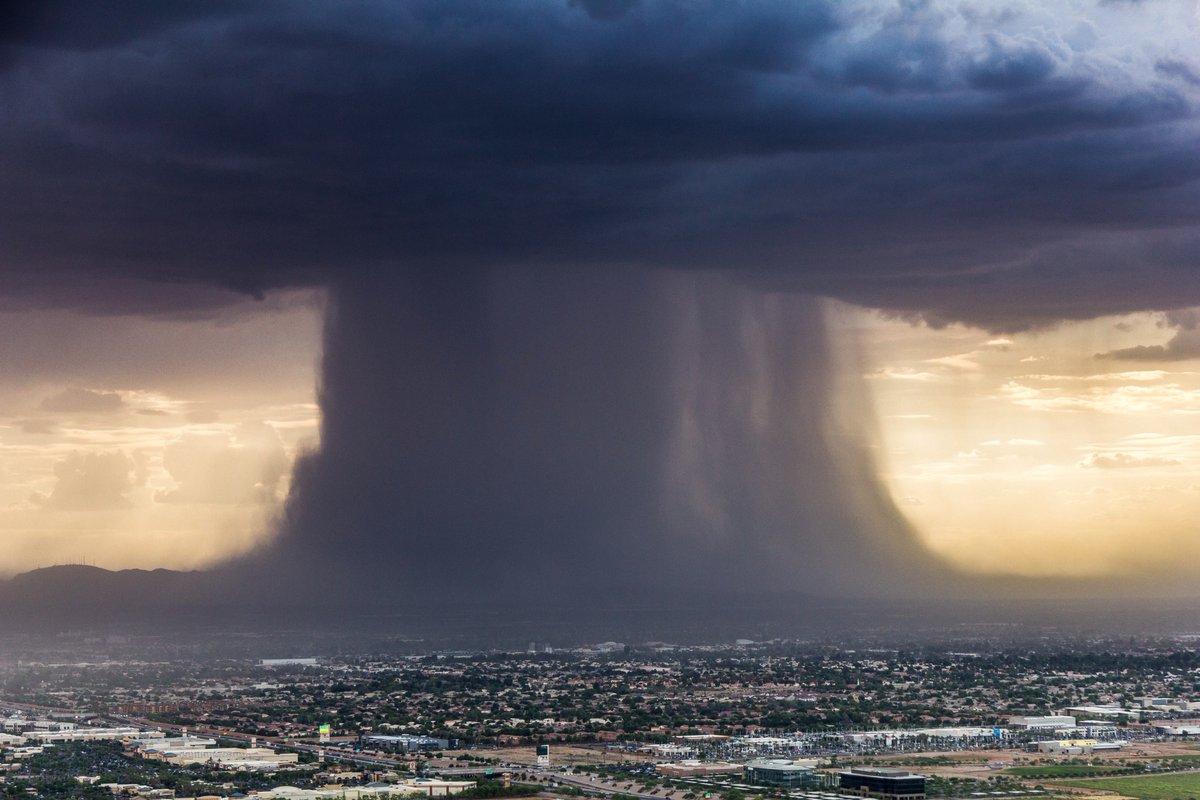 The phenomenon is known in meteorology circles as the more sober "wet microburst." They are supposed to happen rarely; conditions must be just right. A thunderstorm runs into a dry patch of air that sucks some moisture away. The air underneath the storm cloud cools, making it more dense than the air around it. The cooler air begins to drop into even warmer air and then accelerates. When the faucet really flips on, air can blast out of the sky at more than 115 miles per hour. It deflects off the ground and pushes winds outward, at or near tornado strength. The Phoenix event above was actually a "macroburst," with a radar footprint wider than about 2.5 miles, said Amber Sullins, chief meteorologist at ABC-15 News.
Scientists understand the mechanics of small-scale weather events such as rain bombs, tornadoes, and severe thunderstorms. The past few years have seen modest improvements in projections of how these storms might behave in a changing atmosphere, region-by-region.
"The research showing rain events for us being less frequent but more intense, due to climate change, seems to be our new reality," Sullins said.
What's known with much greater confidence by climatologists is that storms should continue to intensify. There's little question that by stockpiling water vapor, the atmosphere is building a worldwide arsenal of "rain bombs"—or, if you like, wet microbursts, macrobursts, or just your typical, Noah-scale deluges. And unlike, say, the study of climate change and its relationship to war, why the sky keeps falling is clearer:
Human activity has increased the amount of carbon dioxide in the air by more than 40 percent above pre-industrial levels.
The CO2 and other climate pollutants trap more heat in the atmosphere.
A hotter atmosphere holds more water—about 4 percent more for every degree-Fahrenheit rise in average temperature.
More water vapor and energy in the system mean more intense storms. And lots, and lots, and lots of water.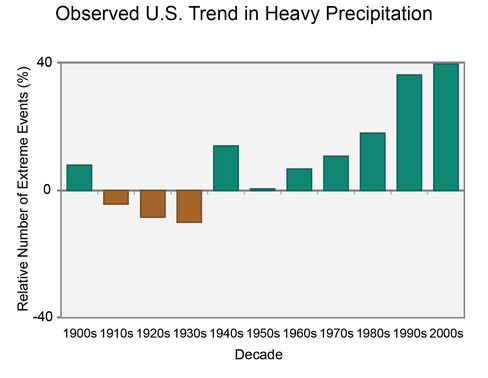 The U.S. is experiencing more frequent rain storms that should typically occur only once in five years. The green bars show the percentage increase in 5-year storms. This graphic ends in 2012; the year 2015 brought an 80 percent increase above the norm. SOURCE: U.S. National Climate Assessment
From 2001 to 2012 (the right-most green bar shown above), once-every-five-year storms occurred 40 percent more often than normal for the U.S., or about every three years. In 2015, these five-year storms happened 80 percent more frequently than expected, according to Ken Kunkel, a scientist with NOAA's National Centers for Environmental Information.
It's not just that the amount of rain is increasing; the amount of extreme rain is increasing. All over the Earth's land masses. The year 2010 had 88 percent more broken records than might have occurred in a stable climate, according to a study last year by German researchers. From 1981 to 2010, 12 percent more record-breaking rainstorms occurred worldwide than would have happened without human influence. "This implies that over the last 30 years, roughly one in ten record-breaking events would not have occurred without climate change," they wrote.
Scientists can't say where the next rain bomb may land. They still don't know where lightning will strike next. But it's clear from wide-ranging research that human activity has weaponized the atmosphere.
Posted by

CAMACOL
at 7:00 AM
No comments: